Funeral Wake Ideas
Losing a loved one is a difficult experience, and planning a funeral wake can be overwhelming. But with the right ideas and planning, you can create a unique and meaningful event that celebrates the life of your loved one. For many having a funeral wake at home is often the simplest wake to organise.
Why have a wake?
A funeral wake is a gathering of friends and family after a funeral service to offer condolences, share memories of the deceased and support each other during a difficult time. While funeral customs vary around the world, the funeral wake is a longstanding tradition in England and has many benefits.
Firstly, a funeral wake provides an opportunity for people to come together and offer support to each other. Losing a loved one can be a deeply emotional and isolating experience, but being surrounded by friends and family can provide a sense of comfort and connection. The wake allows people to share their grief, reminisce about the deceased and offer each other words of encouragement.
Secondly, a funeral wake provides an opportunity to celebrate the life of the deceased. While a funeral service is often a sombre occasion, a wake can be a more relaxed and informal event. People can share stories and memories of the deceased, toast to their life, and celebrate the positive impact they had on those around them. This celebration of life can be a healing experience for those in mourning and can help them to focus on the positive aspects of their loved one's life.
Thirdly, a funeral wake can help to create a sense of closure. After a funeral service, people often feel a sense of disorientation or detachment from reality. Attending a wake can help to ground people, allowing them to acknowledge the reality of the situation and start to process their grief. By spending time with others who are going through a similar experience, people can feel less alone and more prepared to move forward.
Fourthly, a funeral wake can help to preserve the memory of the deceased. By sharing stories and memories, people can keep the memory of the deceased alive and ensure that they are not forgotten. This can be especially important for people who were not able to attend the funeral service or for those who want to continue to honour the memory of their loved one in the months and years to come.
Finally, a funeral wake can help to strengthen social bonds. In today's fast-paced and often isolated society, it can be difficult to maintain close relationships with friends and family. The wake provides an opportunity to reconnect with people and strengthen social bonds. This can be particularly important for people who live far away or who have lost touch with family members.
Do you need to have a wake after a funeral?
Do you have to have a wake after a funeral? This is a commonly asked question, but there is no requirement to hold a wake after the funeral, it is personal choice, and the wish of the deceased.
Why is a wake called a wake?
The word "wake" originates from the Old English word "wacian", which means "to watch" or "to be awake". In medieval times, it was customary for family and friends to keep watch over a deceased person's body overnight, as a way of showing respect and guarding against evil spirits. This practice became known as "sitting up with the dead" or simply "the wake". Over the years, the term modern use of the word wake has come to refer not just to the vigil itself, but to the remembrance that follows a person's death.
Hosting a funeral wake – Do it yourself or hire a venue?
In most cases, booking a venue directly is more cost-effective than going through an undertaker or booking agent. However, if you're looking to save even more money, you could consider having the funeral wake at home and preparing the food yourself.
While this option can be quite a bit of work, it can also be more personal and meaningful. However, as this is quite a fair amount of work at an emotional time it may not be suitable for many people.
Church receptions: An affordable option
If you're looking for an affordable venue to host a funeral wake, consider checking with your local church. Some church halls offer low-cost rentals for a few hours, making them a budget-friendly option. However, keep in mind that you will need to supply the food and drinks, or hire a catering firm, which may not be suitable for everyone. You can also look in local directories and online for function rooms, hall hire, and church halls to hire near to you.
Public Houses: A relaxed atmosphere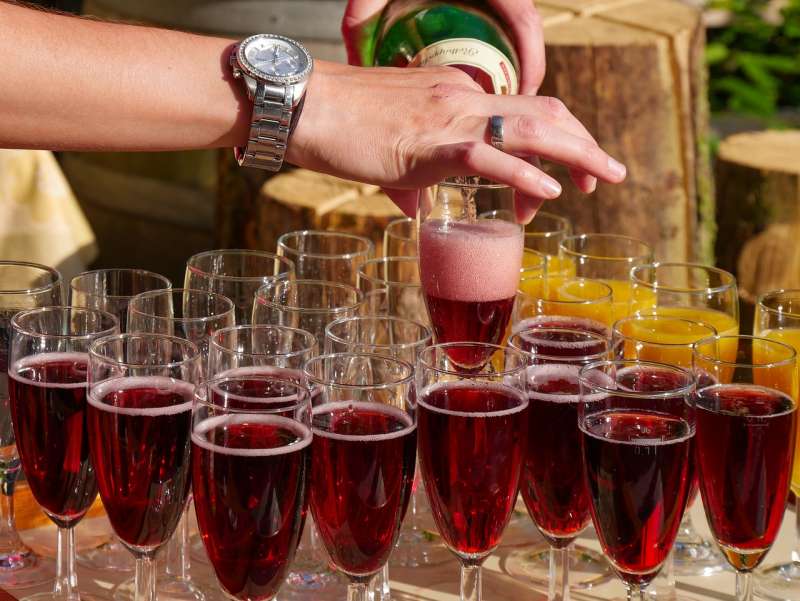 Another option for hosting a funeral wake is at a local public house (Pub). This venue can be easier to arrange and often has a relaxed and friendly atmosphere. Many pubs have a private area that can be reserved for mourners, and they can often supply the food. Guests can purchase their drinks, so there is no financial pressure on the family to cover the drinks bill.
Families who do not want the reception to be dreary will often find a brighter atmosphere in the pub. These brighter receptions are often lower in cost compared to hiring halls and catering firms.
Personalise the event with unique touches
No matter where you choose to host the wake, you can add unique touches to personalise the event. For example, you could create a photo collage or display of your loved one's favourite things. You could also incorporate their favourite foods or drinks into the menu.
Another option is to have a memory table where guests can write down their favourite memories of your loved one.
Other funeral wake ideas
If you're looking for more funeral wake ideas, here are a few other options to consider:
Outdoor picnic: If your loved one enjoyed spending time outdoors, consider hosting an outdoor picnic. You could choose a park or other outdoor location and ask guests to bring their own food and drinks.
Balloon release: A balloon release is a beautiful way to honour your loved one. You could choose a favourite colour or theme and have guests release the balloons together.
Candle lighting ceremony: A candle lighting ceremony is a touching way to remember your loved one. You could provide candles for guests to light in memory of your loved one.
Videos Video montage of the deceased is often an engaging way to celebrate their life.
Bingo: If the deceased was a keen player you could organise a short fun game of bingo.
Decorate the venue: Images of the deceased pinned around the venue and personal possessions are often a good idea to display.
Mourner: involvement: Sometimes mourners would like to say a few words about the life of the deceased.
Summary
Planning a funeral wake can be a challenging task, but with the right ideas and planning, you can create a unique and memorable event that celebrates the life of your loved one. Whether you choose to host the wake at a venue or at home, remember that adding personal touches can make all the difference.
To read more on funeral reception wake ideas visit Discover Economical Funeral Wake Ideas.