Please note:
All information and costs below are correct on publishing.
Please telephone or visit the links to confirm up to date information.
Help with Funeral Costs
Free† financial help
What happens if you cannot afford to pay for a funeral?
Firstly, check to see if there is any help with funeral costs by looking to see if the deceased had life insurance. A policy can either pay for, or help towards the costs. There may be property to sell, or savings, in which case you should contact a solicitor and ask if any savings can be released to pay the funeral bill before the sale of the property and possible probate process.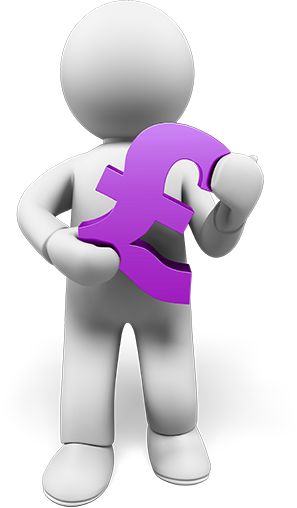 The Government paid out the substantial sum of £62.5 million in 2020-2021 from their Funeral Expenses Payment (FEP) scheme. FEP is under Government help with funeral costs below.
You could ask any other relatives if they can contribute. You should also inquire with your local social security office or online to see if you are entitled to financial help towards funeral costs.
What is a paupers funeral?
If nobody has any money, the family is unwilling to pay an undertaker, and there is no other help with funeral costs from the Government then ask your local council or hospital for a public health funeral. This used to be called a "Paupers Funeral".
Death from a crime
If the deceased has died from a crime, you may be able to claim compensation. You usually have to file a claim within two years of the crime. Additionally, the crime; should have been reported to the police before applying. If in doubt, always check with either the police or a solicitor.
Possible charity help
Turn2us charity may be able to help you with a funeral grant.
Freephone: 0808 802 2000
Child Funeral Charity can help with costs not covered by the Children's Funeral Fund.
Tel: 01480 276088
Friends of the Elderly help with costs not covered by Government help. You have to be aged 66 or over to claim, and the claim has to be through a professional person or organisation such as the Citizens Advice Bureau. Although the claimant has to be aged 66 or over, the deceased can be any age.
Tel: 0207 730 8263
Money Helper
For informative additional advice on financial help if not receiving Government benefits.
Visit: MoneyHelper
Terminal illness benefits
Advice from Marie Curie
Freephone: 0800 090 2309
a) Government help with funeral costs
If you receive certain benefits then you may be entitled to:
England and Wales: Funeral Expenses Payment
Freephone: 0800 151 2012
Scotland: Funeral Support Payment
Freephone: 0800 731 0469
Northern Ireland: Funeral Expenses Payment
Freephone: 0800 085 2463
b) Government help with children's funeral costs
England: Children's Funeral Fund
Freephone: 0808 196 1759
Wales: Funeral Contribution
Tel: 0300 060 4400
There are no cremation or burial fees for children under 18 in Wales. The contribution can help additional costs.
England, Wales and Northern Ireland: Funeral Expenses Payment. You may also be entitled to this payment if you receive certain benefits.
Freephone: 0800 151 2012
Scotland: Funeral Support Payment if you receive certain benefits.
Freephone: 0800 182 2222
There are no cremation or burial fees for children under 17 in Scotland. The payment can help additional costs.
Northern Ireland: The Child Funeral Fund
Freephone: 0800 232 1271
Government Budgeting Loan
England/Wales/Scotland: Budgeting Loan
Freephone: 0800 169 0140
Northern Ireland: Northern Ireland Budgeting Loan
Tel: 0800 022 4250
Save Funeral Costs does not encourage people to get into debt to pay for a funeral. However, there are often cases whereby an individual or family needs help with funeral costs and has to borrow money. In this situation, it is sensible to borrow the money interest-free from the Government instead of a bank or loan company.
The Budgeting Loan has replaced the Crisis Loan for funeral payments. Claimants must be in receipt of certain benefits to claim the interest-free loan. The loan is generally paid back from the claimant's monthly benefit payments. You can claim the loan as well as payments listed in a) & b) above.
Government Bereavement Support Payment
England/Wales/Scotland/Northern Ireland: Bereavement Support Payment.
Freephone: 0800 151 2012
Spouses or civil partners may be able to claim the bereavement support payment. It should be claimed within three months of the death, although it is still possible to claim up to twenty one months, and in some cases beyond. This benefit was previously known as Widowed Parent's Allowance, Bereavement Allowance, and Bereavement Payment. It is available to those under the state pension age and provides financial help to people who have lost a spouse or civil partner on or after 6 April 2017.
Government probate information
General inquiries and to apply for Probate in England and Wales.
Tel: 0300 123 1072
There are different probate rules in Scotland where it is called Confirmation.
Tel: 0131 444 3300
and different probate rules in Northern Ireland.
Tel: 0300 200 7812
In some cases, you may wish to stop a probate application (lodge a caveat) due to legal reasons.
Tel: 0300 303 0648
Please refer to the above Scottish and Northern Ireland telephone numbers to lodge a caveat in these areas.
Low-cost probate services
Most solicitors charge a percentage between 2% and 5% of the estate value to carry out probate, which can obviously be a high fee. for example, if the estate is £500,000 there would be a £10,000 to £25,000 plus VAT- (£12,000 to £30,000) fee.
Thankfully, Farewill below offer a low fixed fee of £595.00 or from £1,500.00.
Many people find themselves needing probate to release monies from the estate. Generally, probate is required if more than £10,000 of assets are held by the deceased. Probate can take between one and three months to complete.
Ensure you have all the documents to hand before contacting the links below.
Farewill offer "Essential Probate" from £595.00 (+ probate registry fee) for a basic service with a simple to-sort estate whereby you would fill out most of the paperwork. They also offer 'Complete Probate' from £1,500.00 for a full service if you are too busy and /or the estate is complex.
Farewill probate
Tel: 0208 138 0719
For further helpful information covering most aspects of funerals from Poems, Flowers, Bereavement Gift Ideas, What to Wear at a Funeral, and much more, please visit:
† Free financial help applies if the claimant is in receipt of certain Government benefits or is eligible for charity help.